---
Brittany Hartmann
Head Coach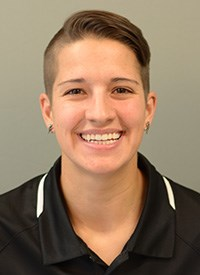 Brittany Hartmann is in her third year as the head women's lacrosse coach at Pacific University.
Hartmann returned to her alma mater to take over the lacrosse program and in her first season she had a pair of athletes earn All-Northwest Conference honors (Roya Tahmassebi and Mackenzie Brown both second team). The former Boxer won her Pacific head coaching debut as the Boxers beat Wartburg 12-9 on March 9th, 2019. The Boxers posted a 2-12 record for the 2019 season.
Her second season (2020) was cut short due to Co-VID19 as the Boxers were only four games into the season (1-3). Boxers are 3-15 under Hartmann overall.
Prior to taking over the Pacific program Hartmann served as head coach at Linfield in 2018 leading the program to its best season in 10 years with a third place finish in the NWC and a 4-4 mark in Conference play and 6-7 overall. She had a quartet of players earn All-Conference honors. She was an assistant coach for Linfield for three seasons before taking over the program in 2018.
Hartmann also served as an assistant coach at fellow NWC school, George Fox (2013-14). While her coaching experience also includes coaching at high schools in Glencoe and Wilson, along with serving on the coaching staff of the Lacrosse Northwest Select Club a role in which she is still a part of.
As a student-athlete at Pacific, she was named the Female Athlete of the Year for 2012-13. Over her four-year lacrosse career, she ranks in Top 10 and Top 5 in several stat categories in school history and was a two-time team captain. Hartmann also played on the Pacific women's soccer team, setting school records in five-different categories. She was named the team MVP in 2010 and a two-time team captain in 2011 and in 2012. Her academic efforts earned her recognition on the Capital One CoSIDA Academic All-District Team, Dean's List on a pair of occasions and induction into the Phi Eta Sigma Honor Society.
Hartmann graduated from Pacific with a degree with cum laude honors in Chemistry with a Physics minor in the spring of 2013.
---
Thuy Williams
Assistant Coach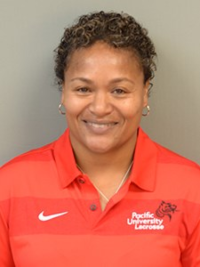 Thuy Williams is in her third season as an assistant coach for the women's lacrosse team.
Williams brings years of coaching experience to the field as she has coached soccer all across the world since 1998, coaching from the youth level to semi-professional.
Williams brings years of coaching experience to the field as she has coached soccer all across the world since 1998, coaching from the youth level to semi-professional.
---
Olivia Kimmel
Assistant Coach
Olivia Kimmel joins the lacrosse coaching staff in 2020 at Pacific while pursuing her PsyD in Clinical Psychology.
Kimmel comes to Pacific with some coaching experience on the lacrosse field leading the Manchester Thundersticks U-14 girls team as the Head Coach, while also working as an assistant coach at Rockville girl's lacrosse club. She also has a US Lacrosse Level 1 Coach certification with US Lacrosse.
She earned her Bachelors degree in psychology from James Madison University adding a minor in coaching education. Kimmel went on to earn her Masters in Education in counseling with concentration in sport psychology from Boston University. She has worked as a psychology/mental performance consultant at Tufts University and Boston University.
Her primary areas of interest include working with injured athletes, using ACT techniques for sport performance, performance anxiety, and the experiences of non-binary athletes.